The artist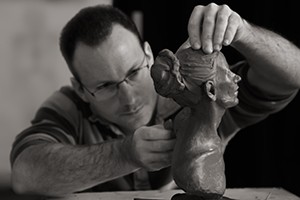 Jean-Baptiste Emmanuel was born in Picardie in 1982 a few miles away from the Baie de Somme. After graduating with a Bachelor's degree in art history and a Professional degree in stone carving, he left for Italy where he remained for 3 years in order to acquire the various techniques of modelling and marble carving. He attended the Scuola del Marmo and the Accademia di belle Arti in Carrara and then Florence.
He carried on with his training in France in mould making and wax chasing in various art foundries and as a stonemason in a restoration of historical monuments workshop.
These various experiences allow Jean-Baptiste Emmanuel to master the whole process of manufacturing art bronze so as to exploit it in the best possible way.
The pieces shown here are modelled, then cast according to the lost wax casting process which has been used since antiquity and recently improved, particularly by the ceramic shell method.
Jean-Baptiste Emmanuel interprets the balance, the tensions and volumes of nature in order to elicit the viewer's emotion thanks to a precise knowledge of anatomy and a sharp observation of shapes.